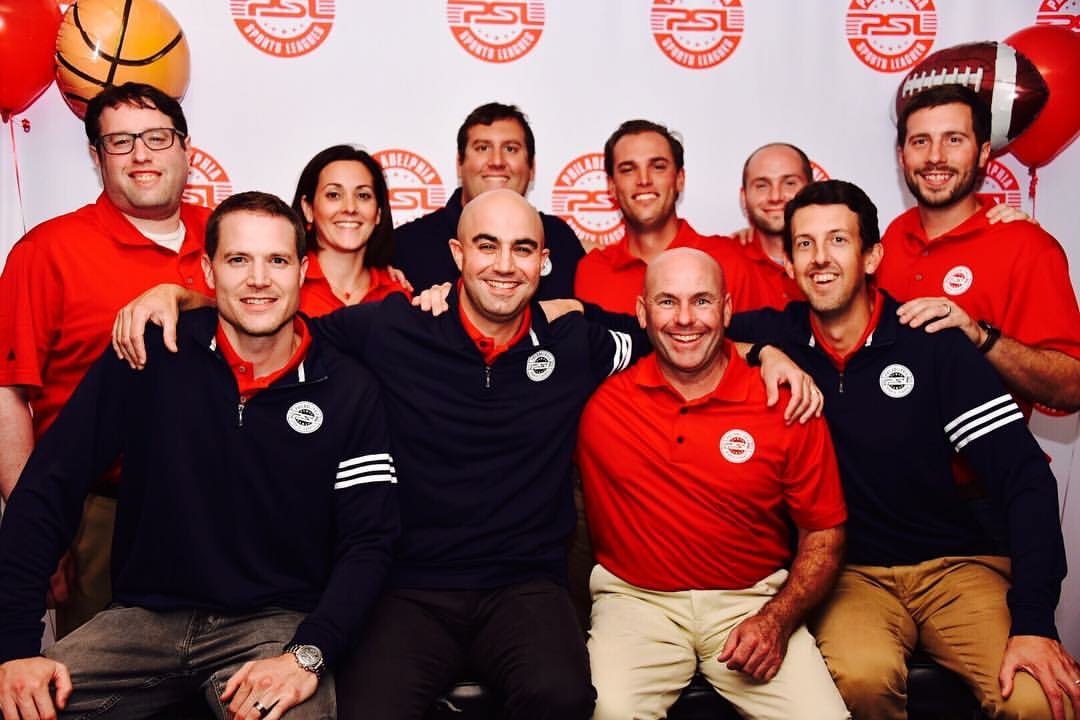 Jason Cooper, Partner
Jason has lived and breathed sports from a young age.  Basketball and football are his favorite sports but he will never turn down a good game!  Jason started his career as an architect with a Bachelor in Architecture from the University at Buffalo and a Master of Architecture from University of Washington while studying abroad in Denmark and Italy.  He co-founded Philly Sports Network with fellow architect and colleague Ryan Ward soon after moving to Philly in 2005, in order to meet new people and stay active.  Jason is married to his college sweetheart and has two very active boys.
Dan Feeney, Partner
Dan graduated from Villanova University and is a huge fan of Nova Hoops!  He then became a golf professional for two summers before deciding to go back to school.  While getting his Masters in Sports Administration from Temple University, Dan interned with Philly Sport and Social.  He is currently one of the PSL partners and oversees the daily operations of the business.  Dan now lives locally and is married with 3 kids!  If you have suggestions on how to improve our leagues please feel free to contact Dan at any time!
Tim Horan, Partner
A sports industry veteran, Tim began his career with Philly Sport & Social as a part-time referee, umpire, and league manager in 1998 and was named Director in September 2004.  Tim received his B.A. in Communications with a concentration in Sports Event Management from John Carroll University in Cleveland, OH in 1991.  Prior to joining the Philly Sport & Social, Tim worked in the sports business as a sports reporter, sports equipment sales rep, baseball umpire, and high school baseball coach.  Tim, wife Kelly, and daughters Tessa & Grace live in his hometown of West Chester.  Tim is a diehard Phillies Phan and his favorite all-time Phillies players are Tug McGraw and Lenny Dykstra. Everybody Hits Now! Whahoooo!  Please contact Tim if you would like PSL to expand to your neighborhood or if you would like to sponsor PSL.
Ryan Ward, Partner
Ryan has had a lifelong passion for playing sports and from early childhood was the one organizing pickup games in the neighborhood.  That passion continued as life got busier and even through college. At the University of Pittsburgh he stayed active with intramural and adult league sports.  He used his planning skills and artistic inclinations to earn a B.A. in Architectural Studies at Pitt. After enjoying the City of Pittsburgh and all that an urban setting has to offer he advanced to Manhattan and graduated from Parsons School of Design with a Masters of Architecture.  Still seeking an outlet for sports and activity he met colleague Jason Cooper (PSL Partner) who shared his interest in basketball and together they began organizing pick-up games for their architecture firm and eventually the broader building industry in Philly.  During their lunch hour and in the evenings they managed the development of pick-up games into organized leagues for a variety of sports.  The success and demand of what they started evolved into the eventual incorporation of Philadelphia Sports Network that Ryan and Jason co-founded and directed for 10 years before merging with Dan Feeney and Tim Horan of competitor PSSC to bring you PSL!
Eric Long, General Manager
Eric attended Kutztown University where he played soccer for two years before transferring to East Stroudsburg University where he graduated with a B.S. in Recreation & Leisure Management Services in 2007.  While at East Stroudsburg, Eric served as the University's Intramural Supervisor. Eric, wife Kristina, and daughters Harper & Teagan live in Flourtown.  He is a huge Philly sports fan and loves playing soccer, basketball, hunting and fishing.  His favorite time of the year is March Madness.  You will see Eric out & about managing Monday basketball, Saturday football and many other PSL leagues.  If you have any suggestions, schedule requests or questions about any leagues please feel free to contact Eric at any time!
Marc Schlesinger, Director of Administration
Marc has been with PSN since the beginning serving in various capacities as referee, scorekeeper, scheduling manager, and most recently in daily operations.  He graduated from George Washington University and received teacher certification in Health & Physical Education from West Center University in 2012.  A transplant to Philadelphia from the Washington, DC suburbs, he participated in various recreational leagues.  He notes that it's been a real pleasure to see the growth of adult sports in Philadelphia and is extremely excited to be working for PSL!  Marc is also state certified to referee soccer, basketball, and boys lacrosse.  
Garrett Wilkins, Assistant Director of Administration
Hailing from Buffalo, NY, Garrett graduated from Canisius College with a B.A. in Criminal Justice.  In addition to volunteering with the Buffalo Bills while studying for his Master's Degree in Sports Administration, Garrett interned with the Arena Football League's Philadelphia Soul as a film room/player-personnel intern for the 2010 season, then subsequently as a scout for the 2011 offseason.  Garrett joined Philly Sport & Social in the summer of 2013 as an intern, he is now PSL's Operations Manager.  Garrett is a huge Buffalo Bills and Buffalo Sabres fan, and you'll most likely see him out during the day maintaining all of our fields, or at night, refereeing and managing our various football, kickball, hockey, volleyball, or cornhole leagues!
Joey Ianni Jr., Assistant Director of Administration
Joey grew up with a passion for Philly Sports and a true love for the Philadelphia Phillies.  He received a B.S. in Communications from Millersville University, with an option in TV Broadcasting.  Since college, he has spent 10+ years working behind the scenes at Comcast SportsNet, in addition to many summers selling Game Day Programs for the Philadelphia Phillies.  In his spare time, he enjoys playing in multiple softball & kickball leagues, hosting tailgates, and visiting MLB ballparks across the country.  In 2015, he joined Philadelphia Sports Network as a Softball Umpire and soon became the Commissioner for both the Softball & Flag Football programs, as well as Equipment Manager.  His leadership, organization, and outgoing personality has helped him develop a strong rapport with both PSL players and staff.
Lanie Brunner, Marketing Coordinator
Having played the same team sports since middle school, Lanie wanted to try something new when she headed off to college at Bryn Mawr. Rugby seemed like a functional mix of sport and social, and proved to be the perfect break from her math and chemistry classes. Ask her "why marketing?", she'll tell you she still needs a break from harsh fluorescent lighting from time to time. 
Josh McManus, Director of Operations
Josh graduated from Neumann University with a B.S. in Sport and Entertainment Management in 2015.  He currently enjoys spending time with his family as well as playing in multiple leagues with PSL & WCSL.  Josh is a huge Philadelphia sports fan, especially the Flyers and Eagles.  You'll most likely find him taking care of all field, facility & equipment issues that need attention, as well as working leagues, tournaments, and events that PSL hosts.  


Nick Herceg, Assistant Director of Operations
Nick's passion for sports started at birth.  Since then, he has graduated with a B.S. in Sport Management from Drexel University in 2017 while also competing on a Top 20 Nationally Ranked rowing team.  After graduation, he spent a year with Villanova University's recreation department as its Intramural Sports Intern.  You can find him digging his toes into the sand and soaking up the sun during the summer, and glued to the TV during the fall to cheer on the Eagles.
Victoria Pierson, Assistant Director of Operations

Victoria graduated from Neumann University in 2016 with a B.S in Criminal Justice where she played Division 3 soccer. On her days off she enjoys spending time with her friends and family, as well as watching her favorite team, the Philadelphia Flyers. Victoria's passion for sports started at a young age and continues to grow. 
Brian Melnick, Managing Partner of BAM Sports Leagues (New Jersey Sports Leagues)
Adam Tracy, General Manager of Conshy Sports Leagues

Mark Cruttenden, General Manager of Lehigh Valley Sports Leagues
Pete Capriotti, General Manager of Delaware Sports Leagues