---
THE PARTNERS. 
---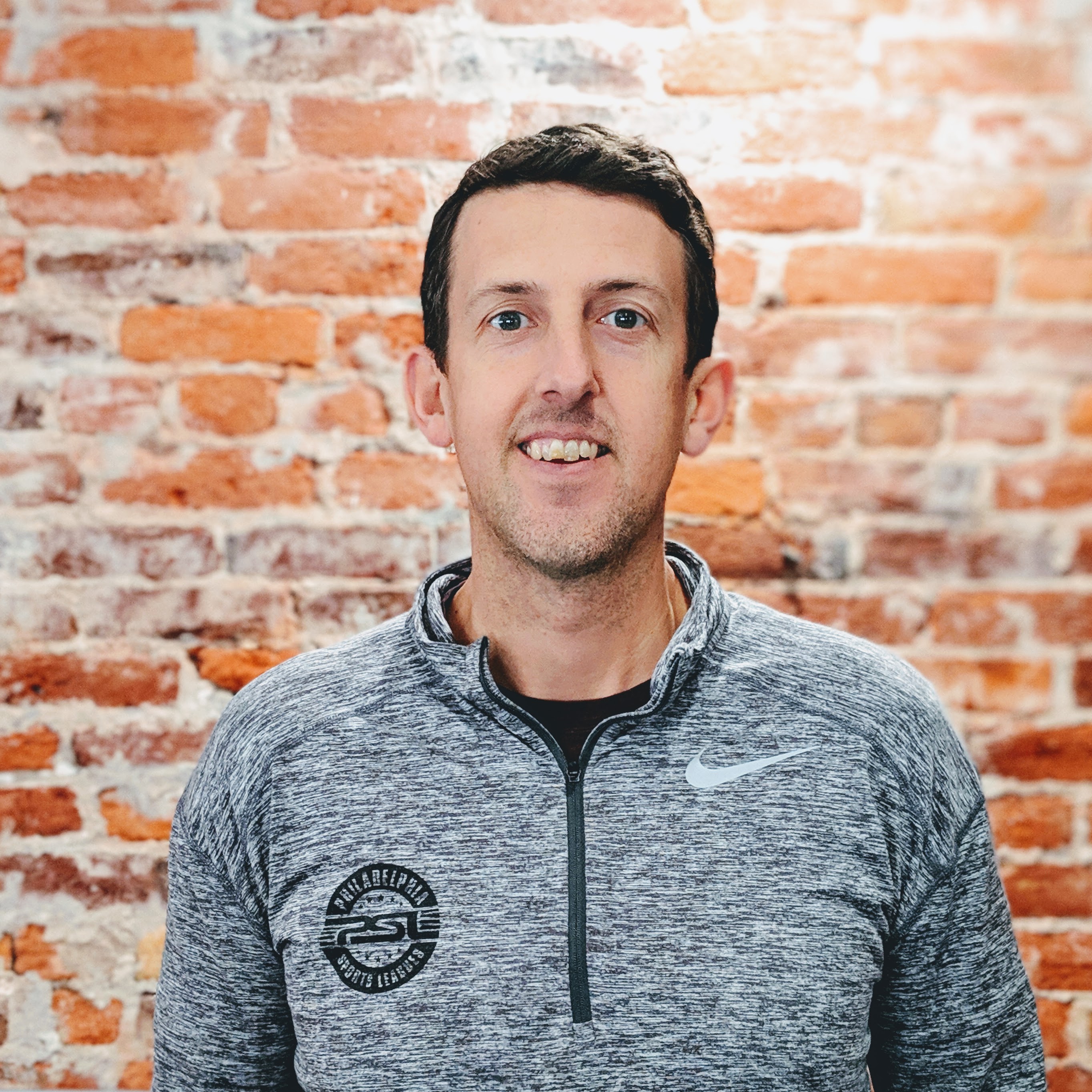 Dan, Partner
Yoga enthusiast // former Golf pro // #NovaNation
Dan originally interned with Philly Sport and Social before ultimately taking on a more ownership role. Now, he is currently one of the Philadelphia Sports Leagues partners and oversees the daily operations of the business.  He lives locally and is married with 3 kids. If you have suggestions on how to improve our leagues please feel free to contact Dan at any time!
Interesting Facts:
What's your secret talent? Juggling
If he were a crayon, he'd be? Red
Favorite Family tradition? "Every night at dinner my kids, my wife, and I have to name our favorite part of the day"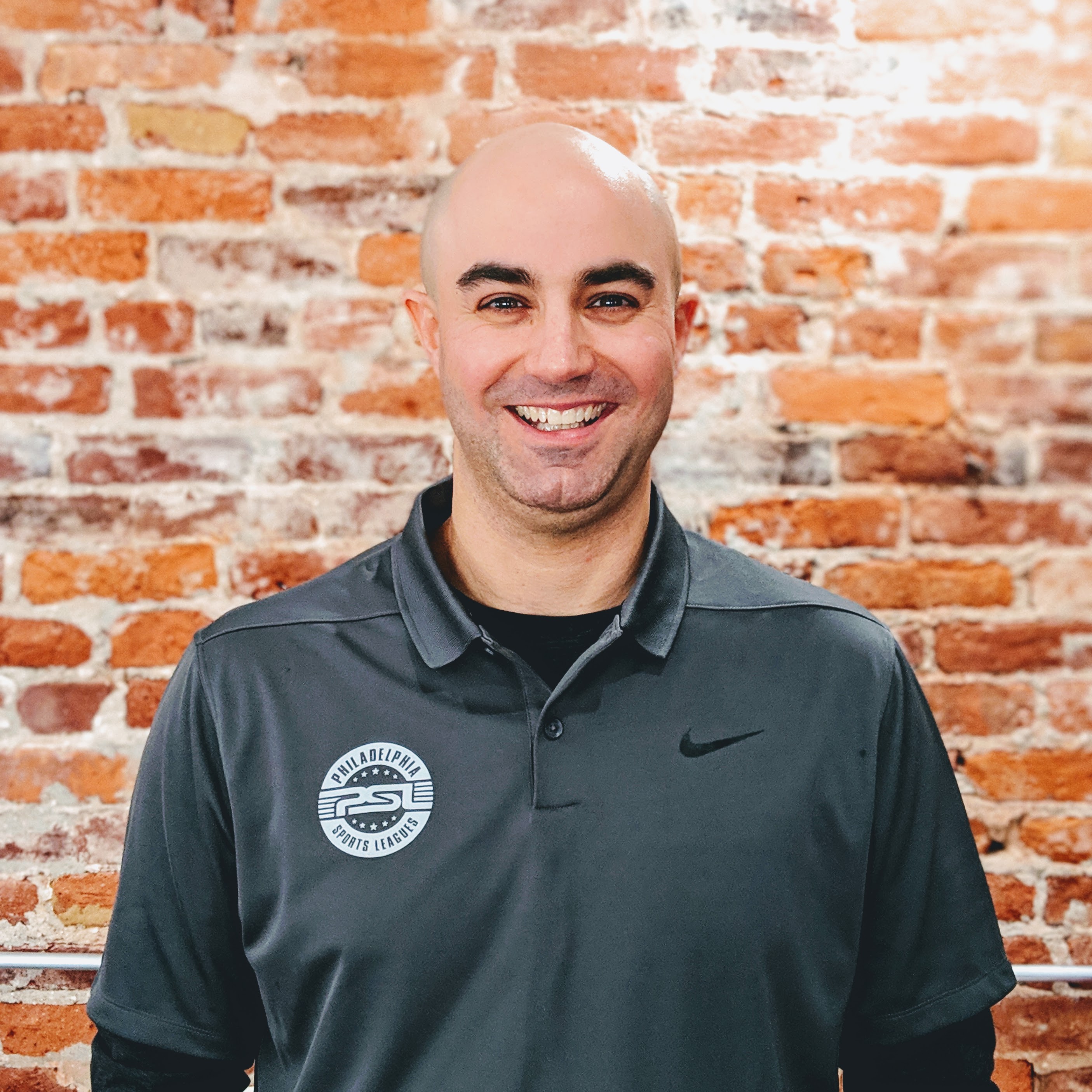 Jason, Partner
Favorite cereal is Oatmeal // doesn't like Captain America
Jason has lived and breathed sports from a young age. Basketball and football are his favorite sports but he will never turn down a good game! He founded Philly Sports Network with Ryan in 2005 after first moving to Philly. Former architect turned (newly created) Philadelphia Sports Leagues Partner, he's putting his creative juices to good use as the head of our Marketing Department. Jason is married to his college sweetheart and has two very active boys.
Interesting Facts:
What's his secret talent? "Folding Laundry"
What color Crayon would he be? "Green"
Truly passionate about: "Cooking and Basketball"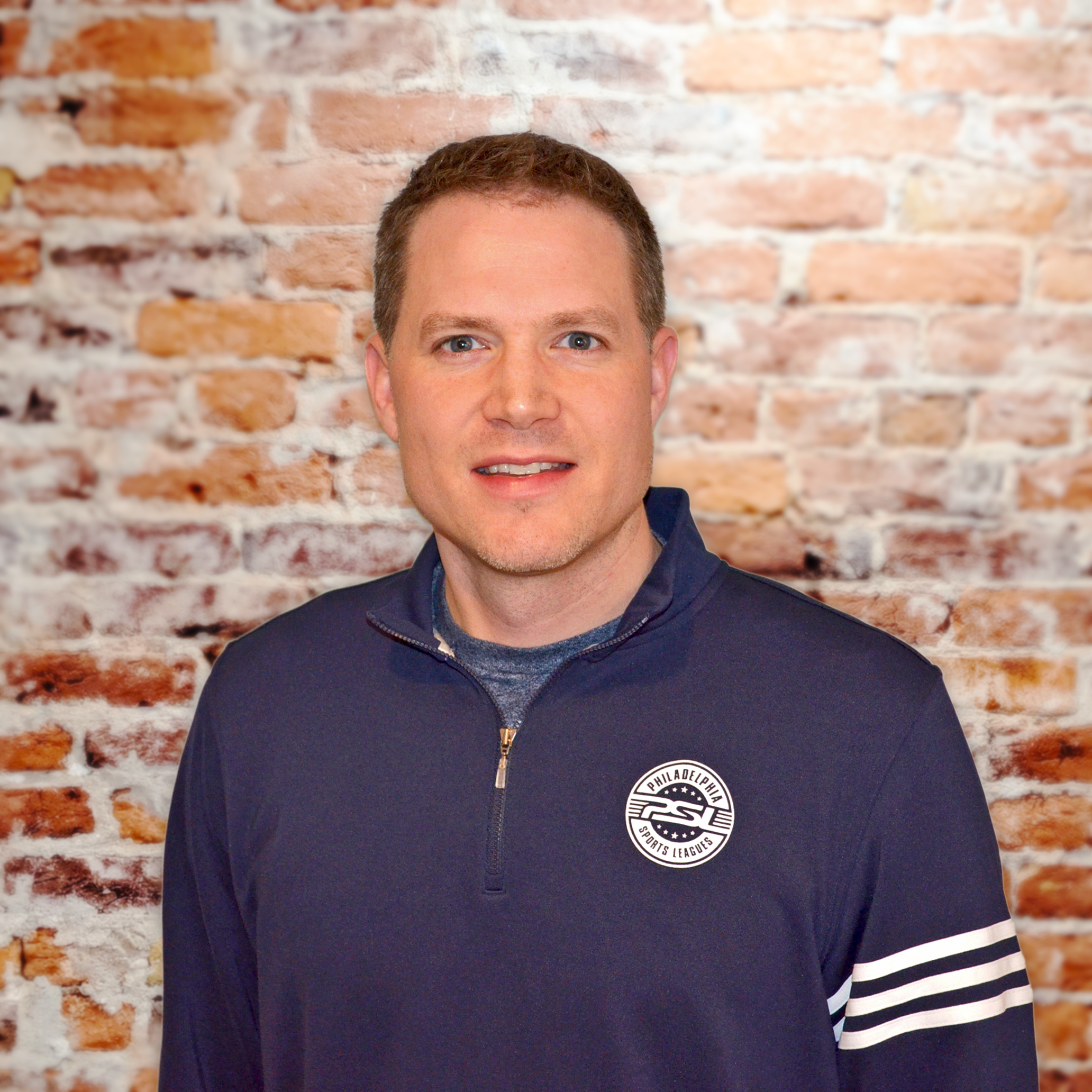 Ryan, Partner

Freak in the spreadsheets // Would rather be golfing
Ryan has had a lifelong passion for playing sports and from early childhood was the one organizing pickup games in the neighborhood. After moving to Philly in his adult life and still seeking an outlet for sports, he met colleague Jason Cooper (PSL Partner) and together they began organizing pick-up games for their architecture firm and eventually the broader building industry in Philly. The success and demand of what they started evolved into the eventual incorporation of Philadelphia Sports Network that Ryan and Jason co-founded and directed for 10 years before merging with Dan and Tim of competitor PSSC to bring you PSL!

Interesting Facts:
What animal would he be: "Not like an ordinary house cat, a really smart winged cat"
Secret Talent: "Drawing/Painting"
Craziest thing he's ever done: "Cliff jumping Lake Nipissing, Canada"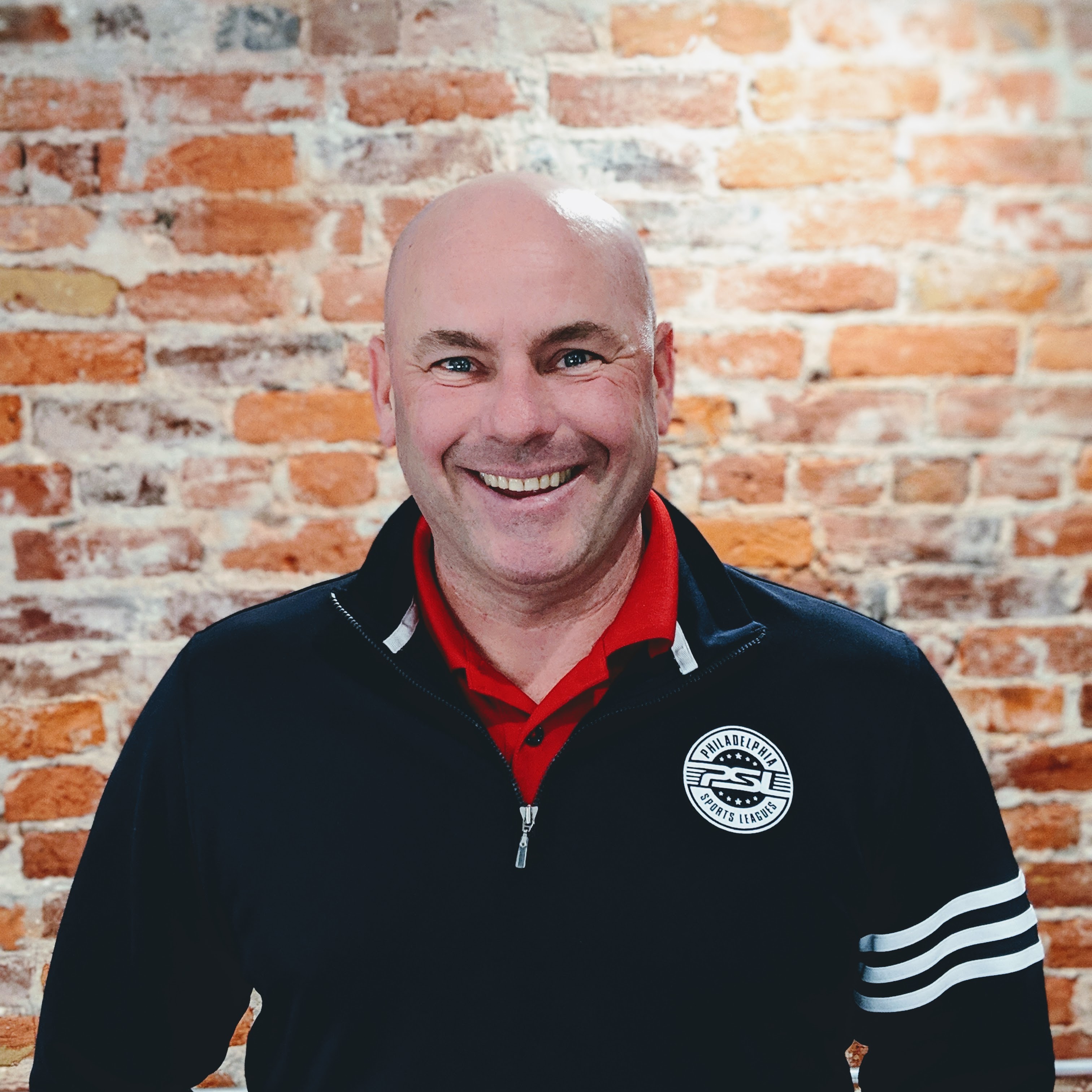 Tim, Partner
Self-proclaimed American Bald Eagle // Customer Service Savant
A sports industry veteran, Tim began his career with Philly Sport & Social as a part-time referee, umpire, and league manager in 1998 and was named Director in September 2004. Prior to joining the Philly Sport & Social, Tim worked in the sports business as a sports reporter, sports equipment sales rep, baseball umpire, and high school baseball coach.  Tim, wife Kelly, and daughters Tessa & Grace live in his hometown of West Chester. Tim is a diehard Phillies Phan (favorite all-time Phillies players are Tug McGraw and Lenny Dykstra). Please contact Tim if you would like PSL to expand to your neighborhood or if you would like to sponsor PSL.
Interesting Facts:
What is he truly passionate about? Being a Daddy to daughter Tessa & Grace
Secret Talent: "I can pick things up with my toes pretty well"
Craziest thing he's ever done: "Snuck into Veteran's Stadium after hours with two of my brothers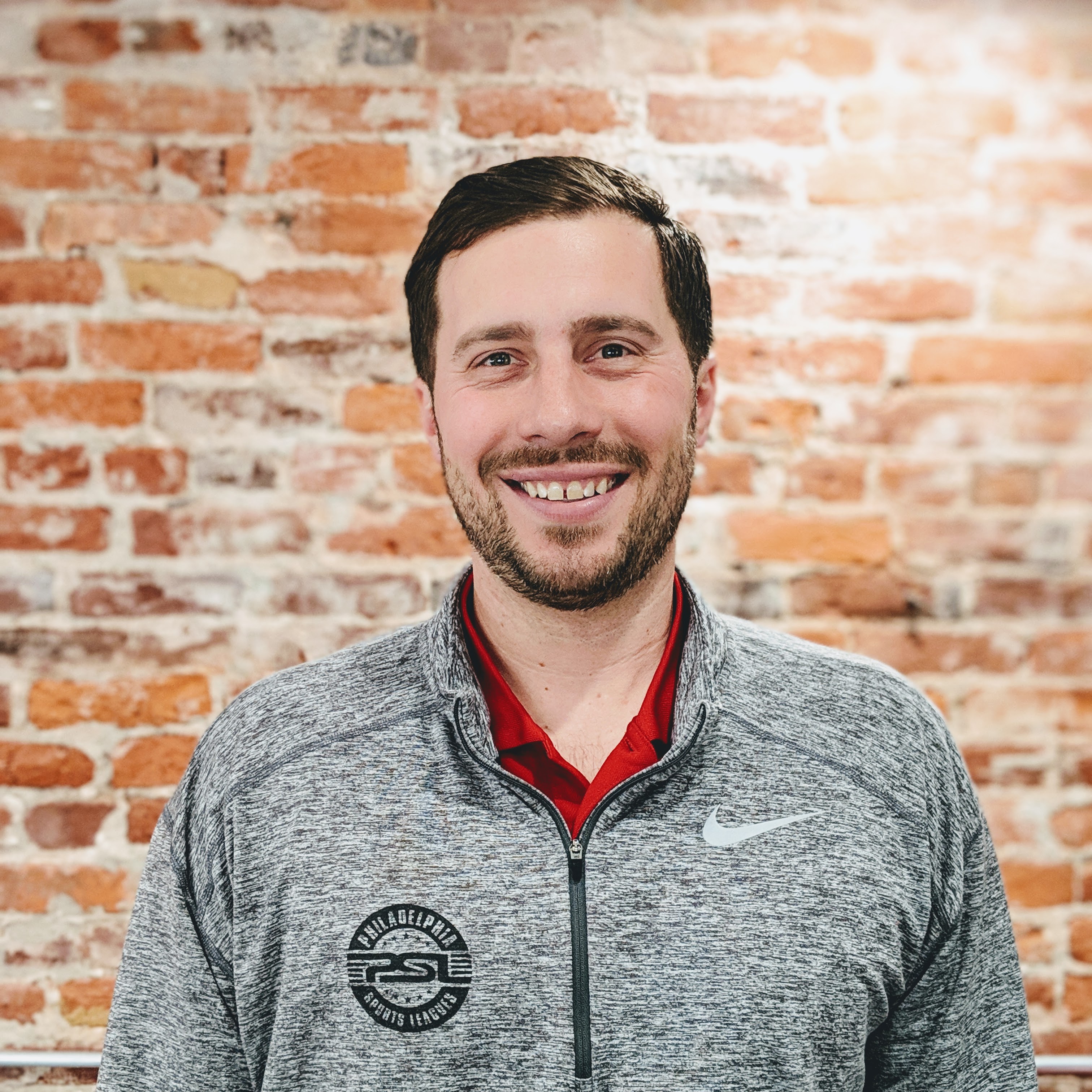 Eric, GM of Philadelphia Sports Leagues
Resident plant man // Home Brewer // not a very good bull rider
Quality Traits: calm, cool, collected. Good listener. Tries to be funny. 
He's in charge, but doesn't force us all to remember it everyday. He leads by example, stays focused, gently handles ridiculous situations, and ensures everyone stays encouraged and feels supported. Basically, he's everyone's older brother. Responsibility wise, he's responsible for everything. 
Interesting Facts: 
If he were an animal? Red Tail Hawk (yes, we had to look that up too)
Favorite place on this earth? Glacier National Park
Currently watching? "Topsy and Tim, Bubble Guppies, The Wiggles - complements of my 4 and 2 year old daughters"
Craziest thing he's ever done? "Helped rescue a man from a wild bear attack" (we're still not sure if this is true)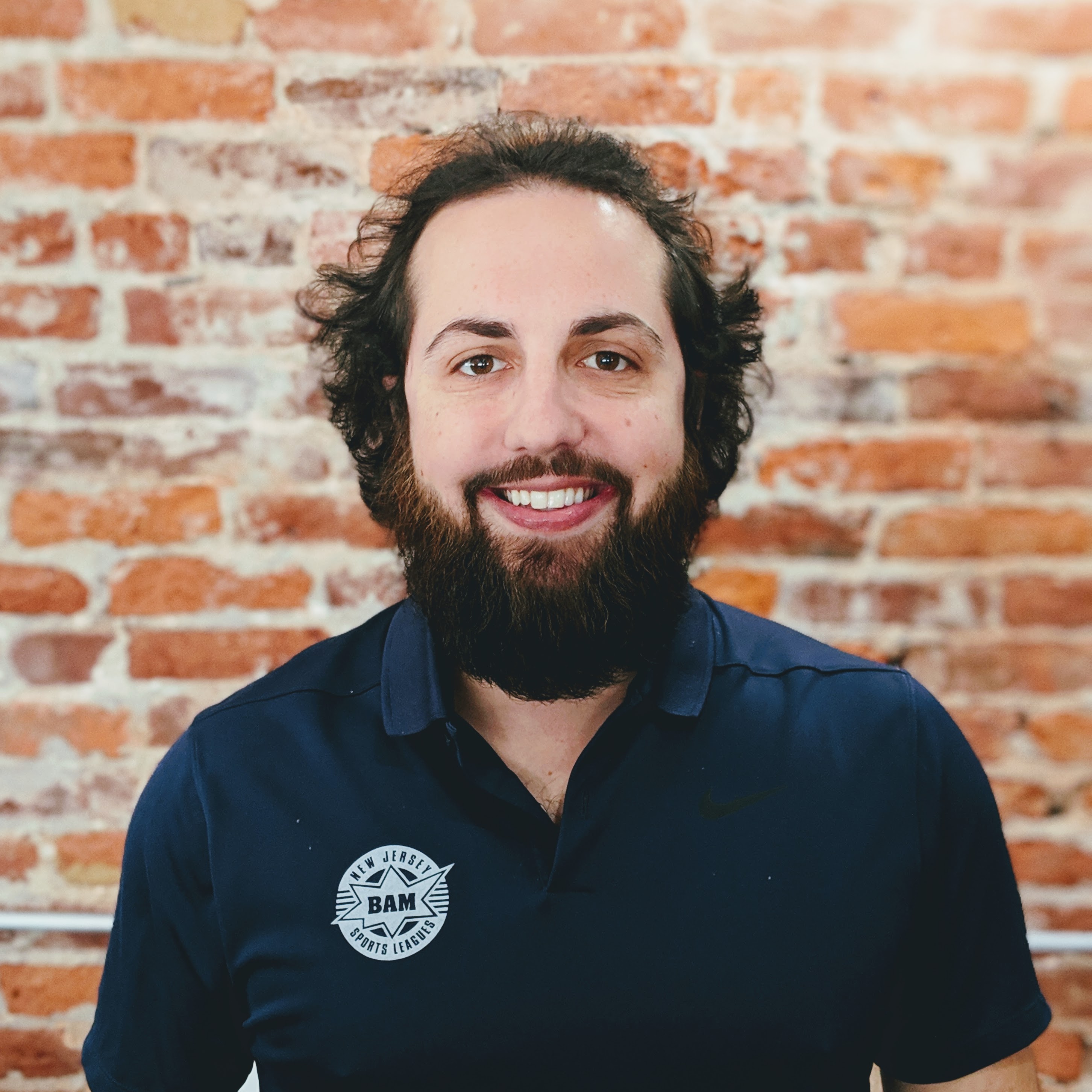 Brian, Partner and Manager of BAM Sports Leagues (NJ)
Former Cheerleader // got a hair cut AFTER a photoshoot // posts a lot of cat photos
Quality Traits: Chill. Multitasker. Jersey Boy.
Brian heads up our NJ branch aptly named after his own initials - BAM Sports Leagues - because he's all about bringing the fun. He may seem quiet at first but this guy is not afraid to whip out a backflip or two on the dance floor. 
Interesting Facts: 
What is he truly passionate about? "Basketball and the NBA! I follow every team, and listen to SEVERAL podcasts specifically about the NBA!"
What color crayon would he be? "Dark Heather"
Secret Talent? "Plays guitar"
Still on his bucket list? "Sky diving"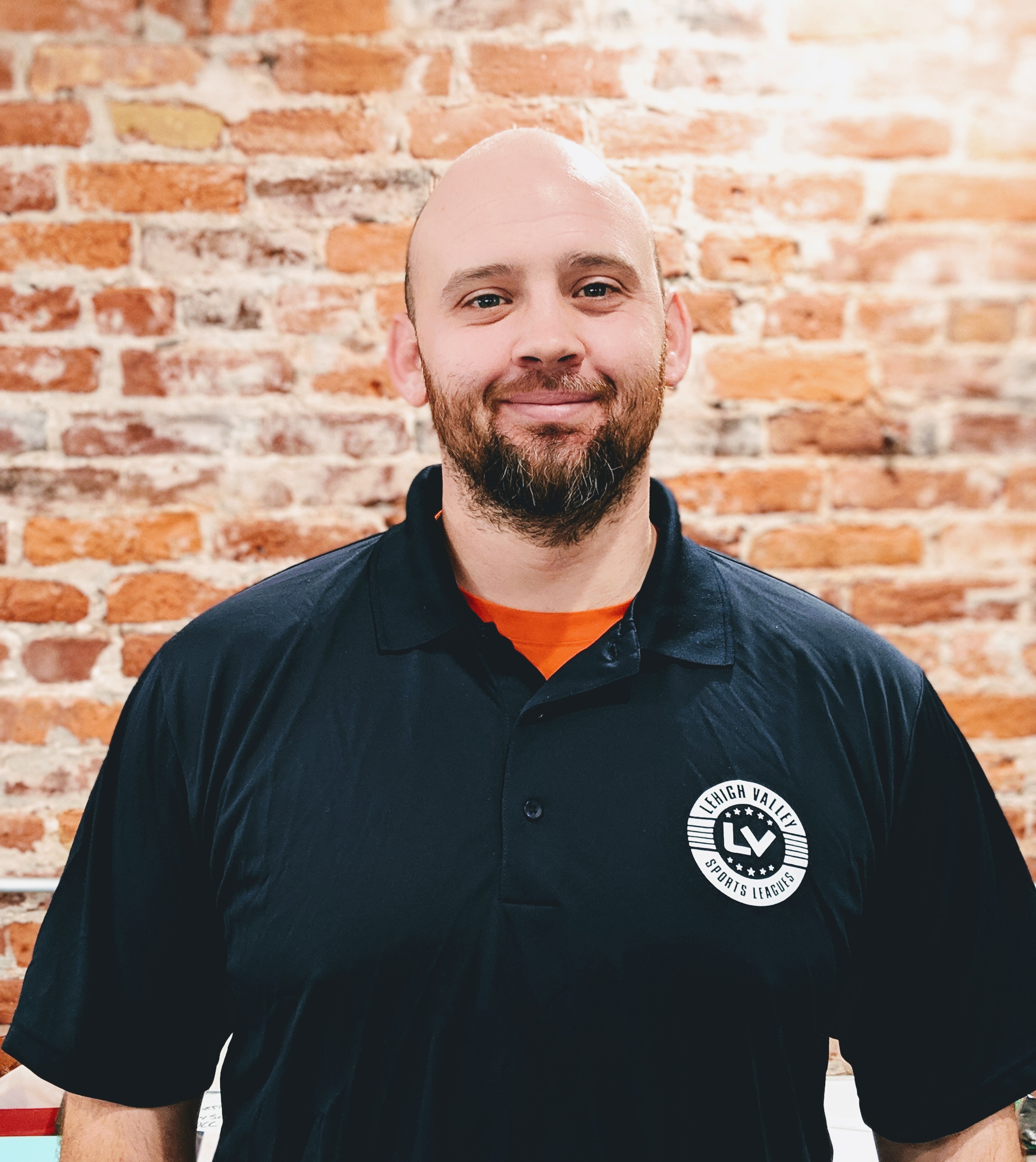 Mark, Manager of Lehigh Valley Sports Leagues
Astronomy lover // not a Star Wars lover
Quality Traits: Always has great ideas. Really Fun. Really Sweet.
Mark manages, runs, and promotes all leagues running in Lehigh Valley. A Sponsor Bar pro and an impeccably fast learner. Mark's - for sure - at the creative forefront in keeping these leagues fun and engaging for everyone
Interesting Facts:
Coolest thing he's currently working on? "The different events that I'm trying to plan this year with Blue Mountain, the Phantoms and IronPigs, and Steel Stacks."
Favorite place in the world? "My fiance and I use our anniversaries as vacations to take trips, and we plan to visit every state. My favorite place so far is Bar Harbor, Maine. It's completely dog friendly, peaceful, great scenery and food, and has a lot of hiking and other outdoor activities."
What's he TRULY passionate about? "I follow NASA on Twitter and enjoy seeing the updates from what they're doing in space. Oddly enough though, I never got in to the Star Wars or Star Trek movies."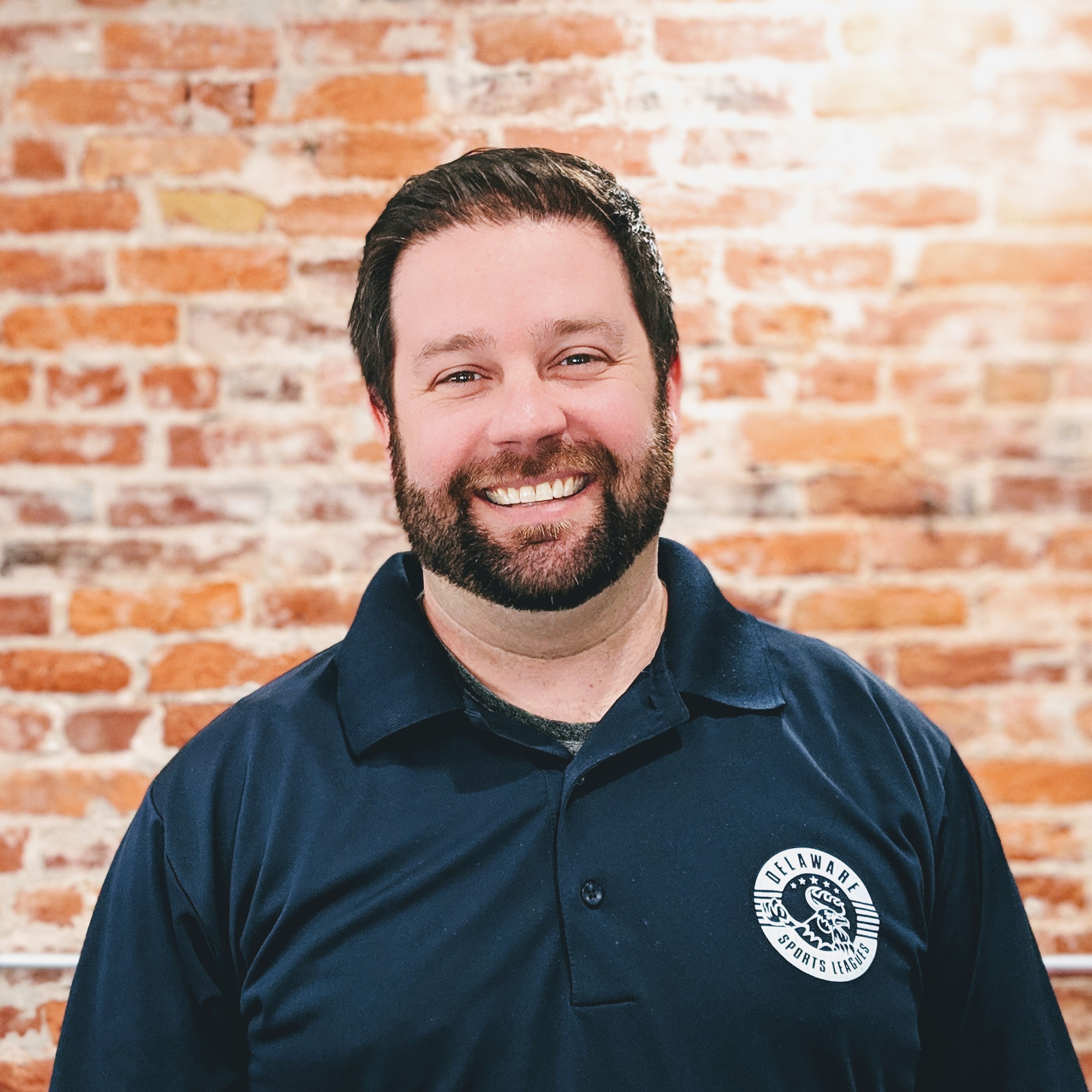 Pete, Manager of Delaware Sports Leagues
Coordinating Extraordinaire // Owner of the world's cutest dog // Lover of Rice Chex
Quality traits: Personable - like cool uncle vibes
Pete is all about organizing  and structuring the fun. By day, he is the main guy behind Delaware Sports Leagues - everything from creating the schedule for each season  to coordinating details with facilities to building relationships with players, he's it. By night, he's probably the chillest bartender you ever did see.
Interesting Facts:
Favorite place in the entire world? Whistler
Craziest thing he's ever done? Cave Diving
Favorite family tradition? Easter Bacon and Sausage Bread
---
THE ADMIN TEAM.

---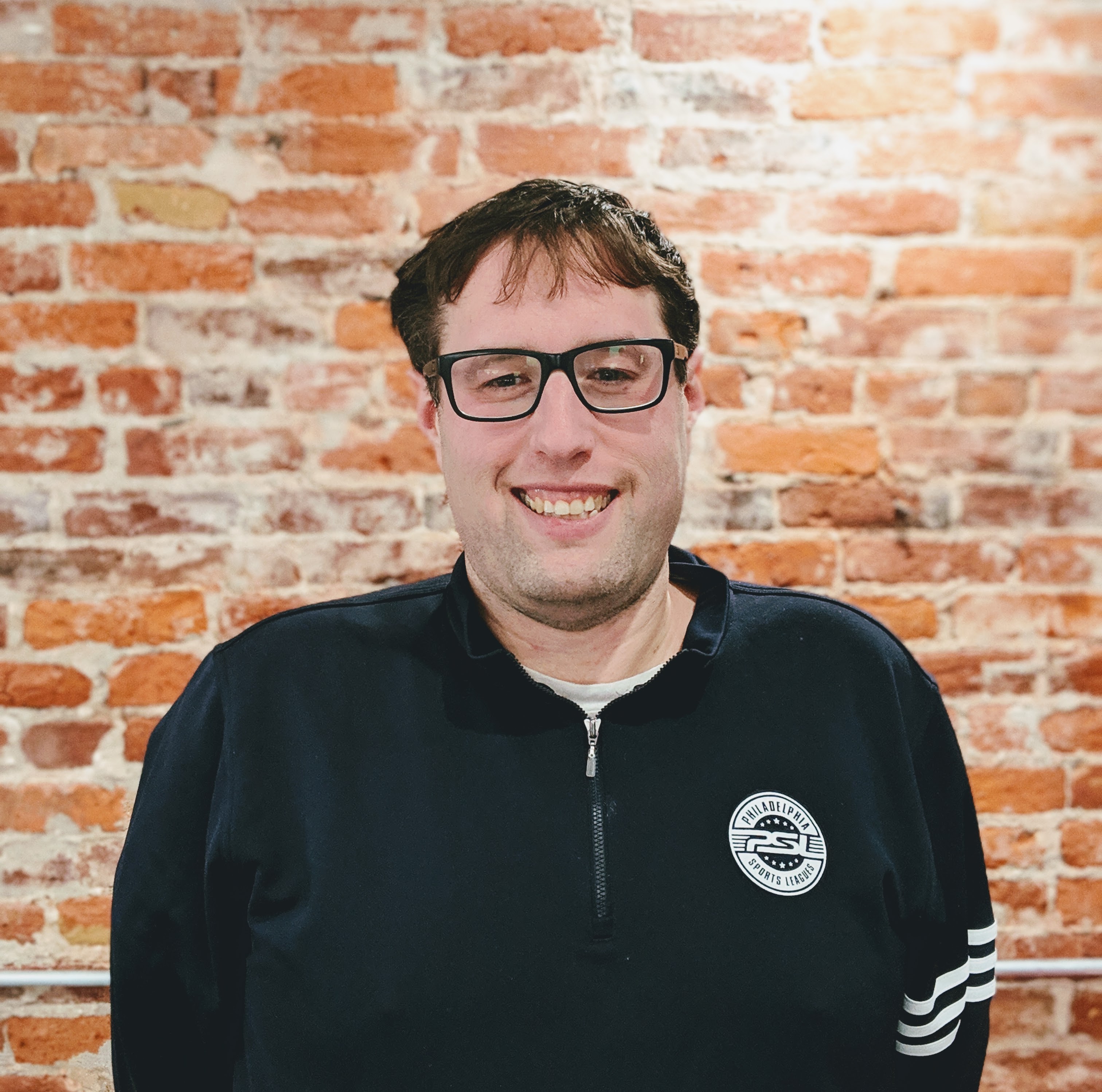 Marc, Director of Administration
Spin Extraordinaire // always appreciates a good joke // Calves like Adonis 
Quality traits: Focused, Mentally Organized, For the Team
To give you almost everything you need to know about the head of our Admin team, he has a really big computer so he can't see anyone. He says it's for working with really big spreadsheets organizing all of our leagues and players and whatever, but idk. Also, he - along with Garrett - is probably the fingers behind every email and the voice behind many phone calls (but watch out if you're a spam caller - he doesn't have time for you. He's busy and is not messing around). 
Interesting Facts:
What's Marc's favorite cereal? Cheerios with EXTRA PROTEIN!
What's he truly passionate about? "Spin - I go 3 or 4 times per week"
If he were a crayon color? "Laser Lemon"
Who inspires him? "My children who teach me something new everyday"
Quote? "You can't hear what people think"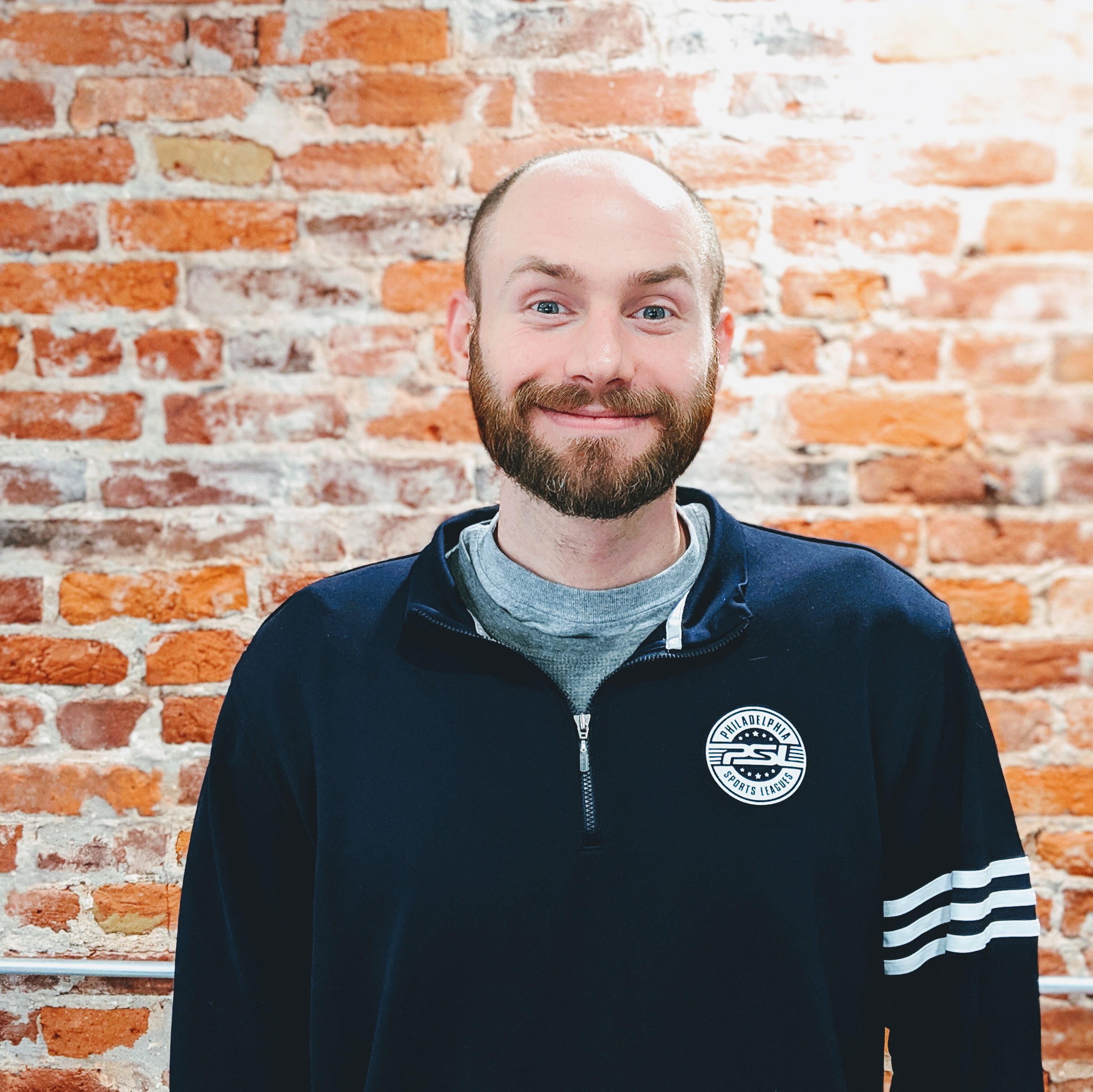 Garrett, Assistant Director of Administration
Former pro wrestler prospect // won't eat lunch with you // will send you gifs  // creator of creative names
Quality traits: Composed, witty. Encouraging hype man
Garrett, part 2 of 2 of the Admin team,  probably sends about 100 emails a day (not an exaggeration). And creates leagues schedules and details. And is most likely on the other end of the your phone or computer screen. Basically, with Marc, Garrett keeps this party going.
Interesting facts:
Currently watching? "Tidying Up with Marie Kondo"
If he could be an animal? An eagle with the head of a bear
If he could be a crayon color? Tie-dye
First thing he ever checked off his bucket list? Hiked a Volcano
Least favorite superhero? Morbius, The Living Vampire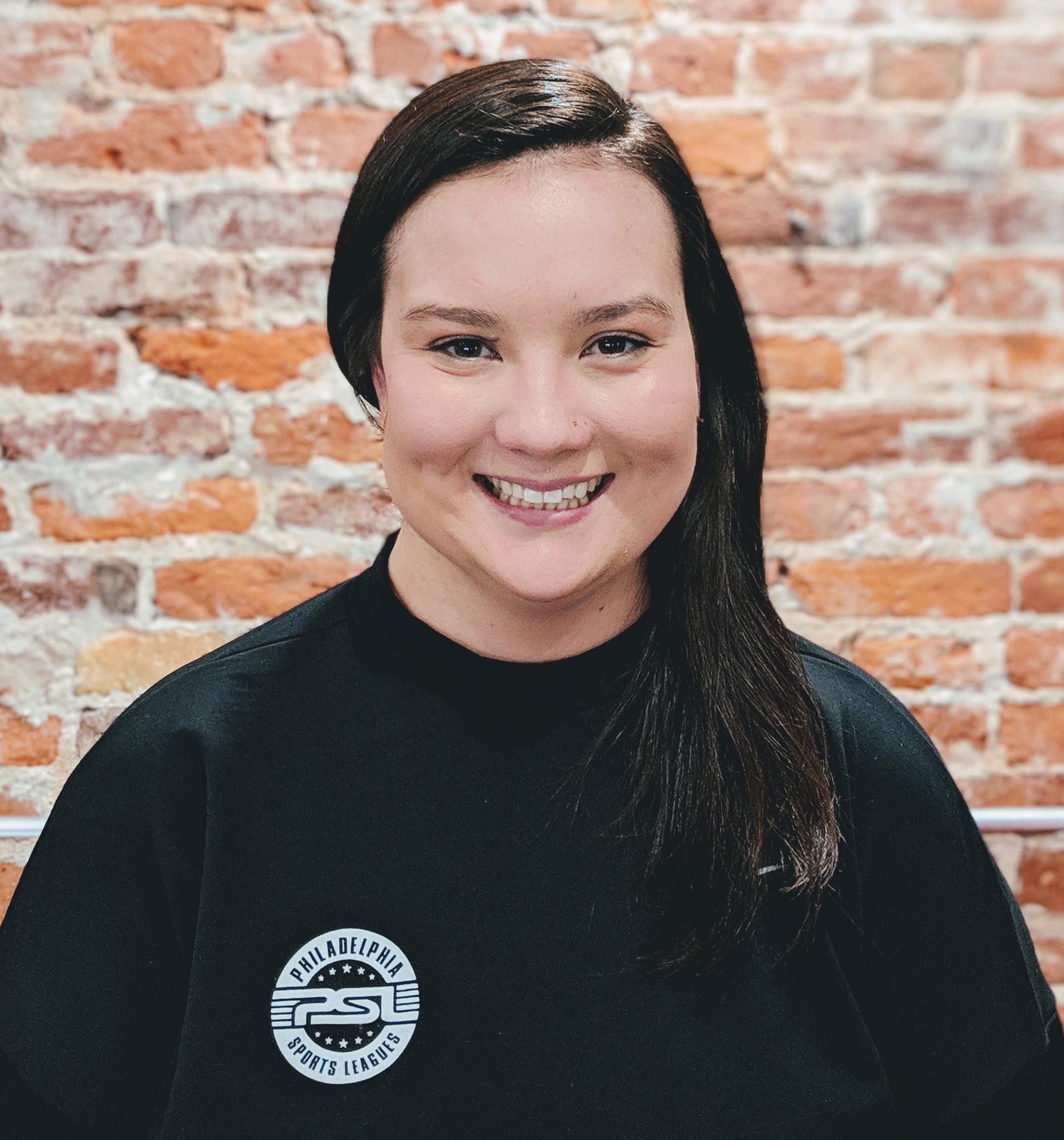 Lanie, Marketing

Not the cornhole champion // always covered in cat hair 
Quality traits: Will bore you with details. Won't be sorry about it. 
The newest member of the PSL team and already on a mission to revamp communication channels from staff to players. Also, heads up, she may (slash probably will) awkwardly stop you for a photo at your game or randomly on the street in your PSL shirt - never know when you'll end up on our instagram or website :) 
Interesting Facts: 
First thing crossed off her bucket list? "visited a national park (well, like 5 now) in an attempt to visit every National Park as an adult!" 
Still on her bucket list? "scuba diving license" 
Favorite family tradition? "making butter boats for Zul (Kalmyk- Mongolian winter holiday)"
---
THE OPERATIONS TEAM.
---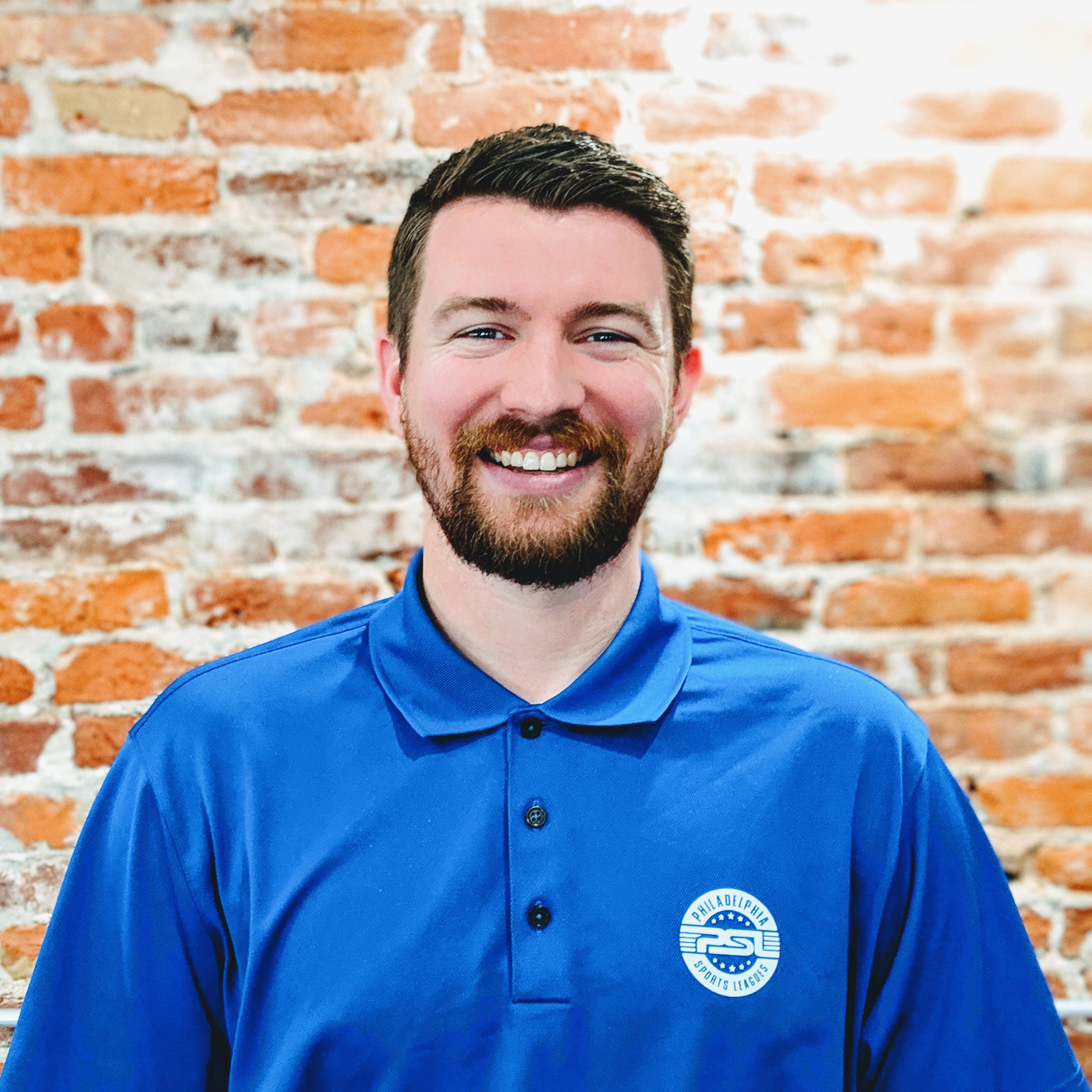 Josh, Director of Operations
Quiet at first // Freaky later on // Soccer Star
Quality Traits: REALLY nice to everyone, team player, task master, random spurts of funny things
As the ringleader of the Operations team, Josh is responsible for scheduling field maintenance & shirt deliveries, ordering equipment, assembling said equipment, and driving the newest member of our Opts team - Mr. Jawn Deere. He is also known for consistently knowing the weather and dropping whatever he's doing (even on the weekends) to help clear up any weather - related damage to fields in order to keep our players happy and playing. Thanks Josh!
Interesting Facts:
Favorite place in the world? "Home"
What are you currently binge watching? "Fuller House"
What's the coolest thing you're working on? "Captain Rewards because it's nice to give back to those who put in a lot of effort to get their teams signed up and registered" 
Craziest thing he's ever done? "Dragging softball fields with a minivan"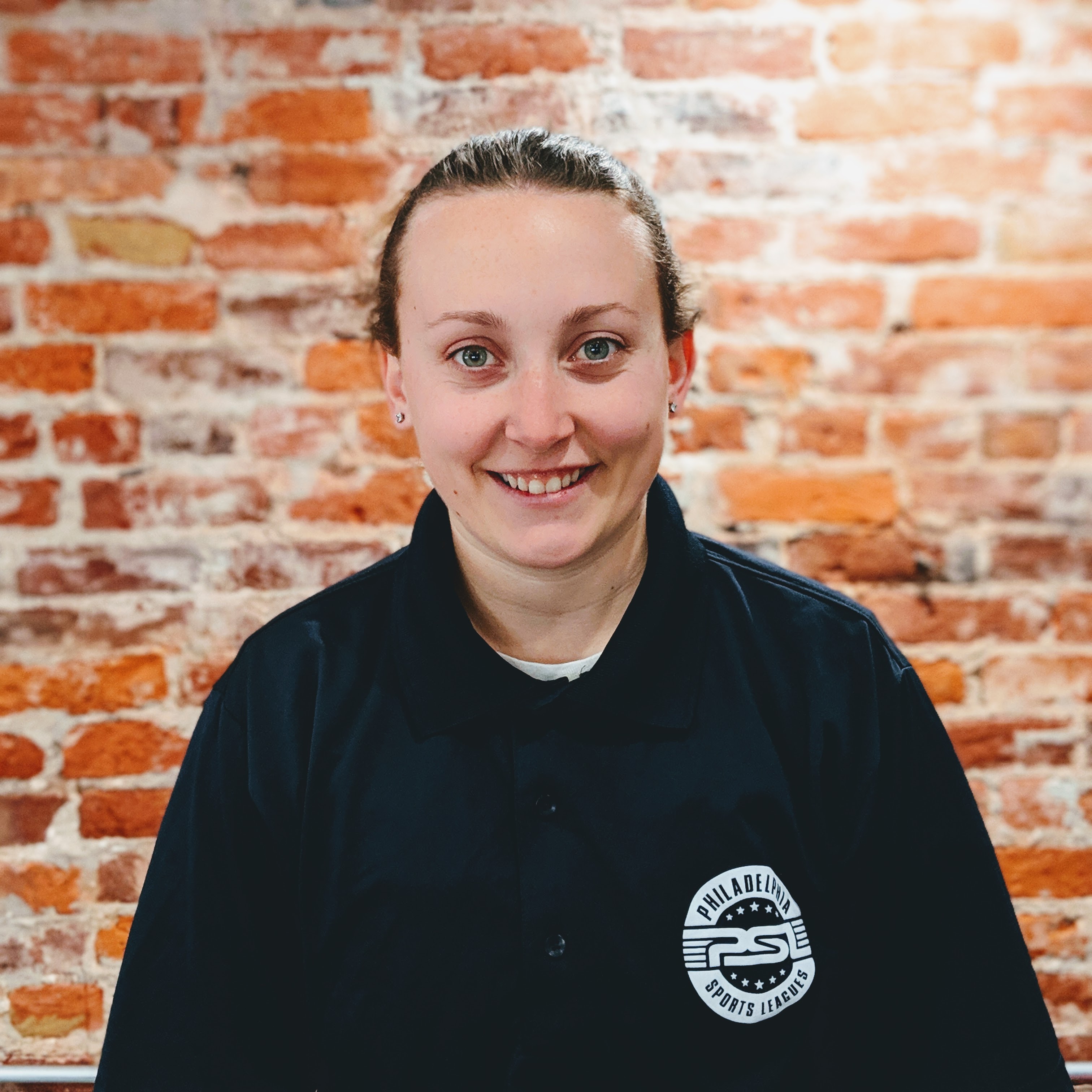 Victoria, Assistant Director of Operations
Nickname: Smallz // Soccer Star // carries things twice her size
Quality traits: tells it like it is, funny, task master
As part of the Operations team, Victoria gets **** done.  A lot of shirt deliveries, a lot of medal drop offs, a lot of entering score reports, a LOT of field leveling. She's mighty.
Interesting Facts: 
If she could be an animal? " I would be a cougar...pun intended"
Direction of her toilet paper? "?My toilet paper hangs over; it's illegal to hang it under"
Favorite place in the entire world? "A toss up between Disney and the Wells Fargo Center, tough call"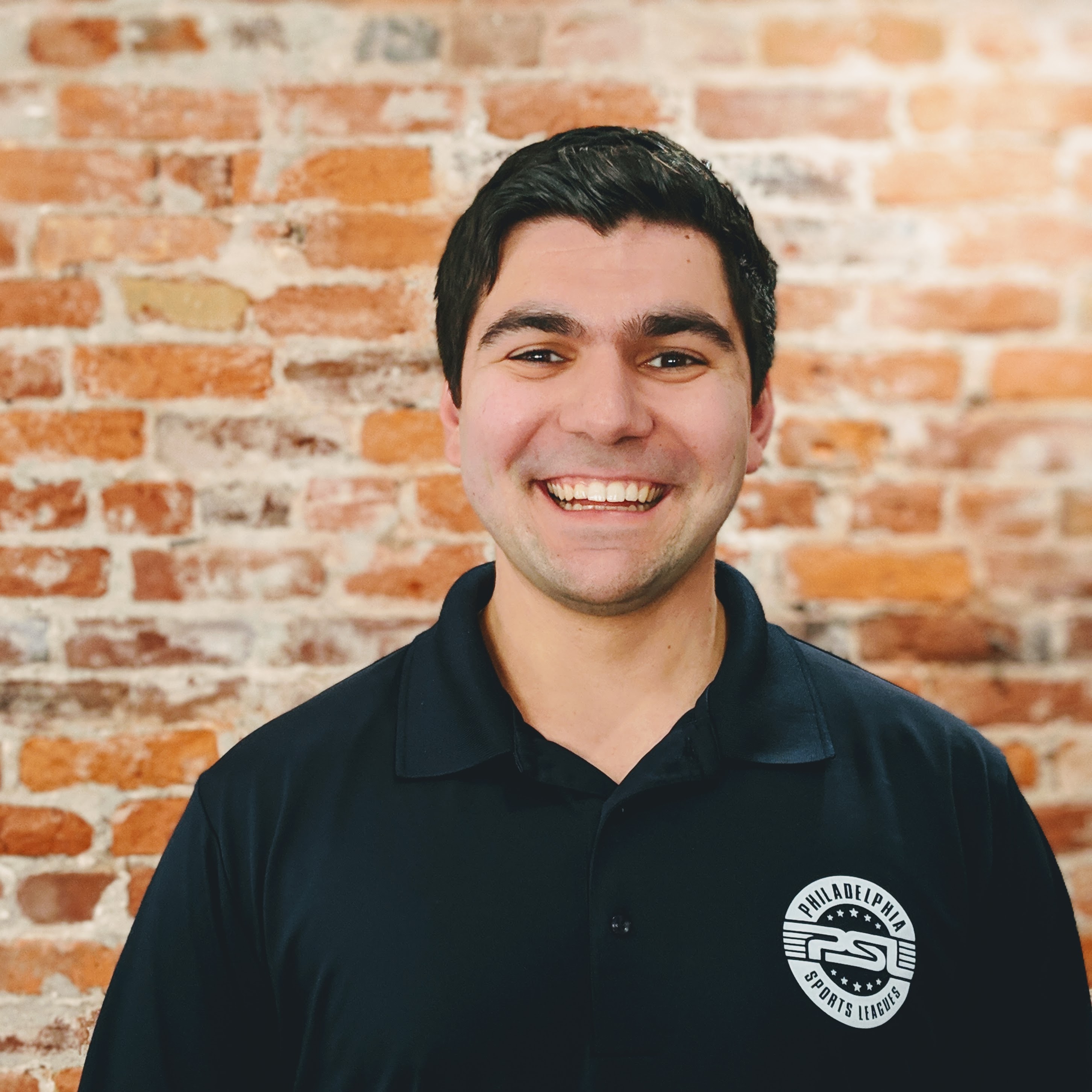 Nick, Assistant Director of Operations
Ran the Philly Half Marathon and the Broad St Run // former Crew Star for Drexel // Only one to get the toilet paper question wrong
Quality traits: fun, down for anything, also a task master
Nick also works on the Operations team, which means he helps with making sure all registered players (remember: registered also = signed waivers) receive their shirts, ensuring fields are clean and safe to play on, and entering score reports.
Interesting Facts:
If he were an animal? "Dog, so I could be the best good boy"
Truly passionate about? "Tasting Beers of all different styles from around the world"
Craziest thing he's ever done? "Bought Red Sox playoff tickets the night before and drove to and from Boston in less than 24 hours"
Which way does the toilet paper hang? "Doesn't matter to me" (Note: this is absolutely the wrong answer and now we know who has been hanging it incorrectly in the office *busted*)